407-305-4029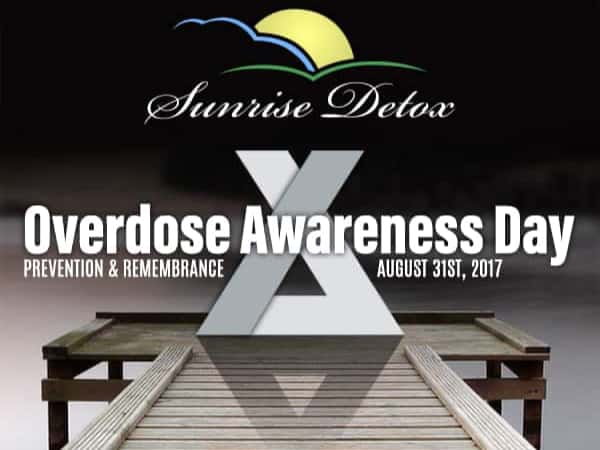 Can You Save Someone's Life Today?
There is a massive drug addiction problem facing us today. The Centers for Disease Control (CDC in Atlanta) estimates that 65,000 individuals will die from a drug overdose in 2017. Almost 200 people per day die from a drug overdose.

That means in the time you've taken to read this post so far, 1 person has already entered a comatose state induced by a drug overdose. By the time you reach the end of this post, that person will be dead.
If you are at work, by the time you get up for your next cup of coffee or drink of water, it is likely another 5 or 6 people will have died of a drug overdose. By the time you have dinner tonight, almost 150 people will have died from a drug overdose just today.
August 31 Is Overdose Awareness Day.
Sunrise Detox is a medical detox center. Almost all drug addiction treatment starts with a medically-managed detox, which means we see the majority of people who are lucky enough to go to rehab or treatment, as they start that journey. Do you know what we have learned? Your words matter.
We encourage you to stop what you are doing, right now, and make a call to that someone you know who has or may still be struggling with drug addiction (or an emotional or mental issue, or past trauma, since drug addiction often follows those).
Touch base. Check-in. Say hello. Catch up, if even just for a few minutes. And if you don't get through, leave a voice mail and just let them know you care.
Your simple connection can provide someone with evidence that someone somewhere out there does care about them, does think about them, and there is a good chance that little effort on your part can save a life. Today.
You Can Call 24 Hours A Day For Help
We staff our phones 24 hours each day, 365 days a year because we want to be there whenever someone calls us for help. We believe that the window of opportunity to provide help to a drug addict willing to accept our help is very narrow - we all must act quickly whenever the opportunity appears.
In most cases, we can arrange admission (with insurance clearance) in just 30 minutes or within a few hours... and even arrange transportation. The first few days are critical to restore awareness and remove the influence of the active drugs so that rehab or other aftercare can be considered. Call us now! 407-305-4029