407-305-4029
Fentanyl Detox Near Orlando
Fentanyl can be a hazardous drug not just because of its highly addictive nature but also because it is commonly combined with other illicit substances. If you are struggling with addiction to fentanyl, you require immediate assistance. The initial phase of recovery is through a medically directed detox to rid your body of the drug.
Sunrise Detox Orlando offers skilled medical care to gradually taper you off fentanyl while minimizing withdrawal symptoms. Your life is of great value. Don't risk it by continuing your usage or attempting to quit alone. Rather, contact 407-305-4029 and take the first step toward recovery.
What Are The Signs You Require Fentanyl Detox Near Orlando?
Originally created as an authorized anesthetic during the 1960s, fentanyl is commonly improperly used, manufactured illicitly, and dangerously cut with other substances including methamphetamine and heroin. Like other opioid painkillers, the feelings of pleasure it creates makes it addictive in nature. You could have a dependency if you experience any of the following:
● Withdrawal symptoms appear when not using fentanyl
● Constant impulses to keep using fentanyl
● Social withdrawal or a change in social circles
● Acquiring and taking the opioid becomes more important than taking care of daily commitments
● Intense mood swings and lethargy
● Finding that you need more fentanyl to reach the same "high"
Each person's experience with fentanyl use disorder may be different. The bottom line is you must get help. The potency of this drug and the severity of withdrawal make halting use on your own extremely dangerous. Don't take the chance. Speak with the detox experts at Sunrise Detox Orlando.
What To Expect From Fentanyl Detox At Sunrise Detox Orlando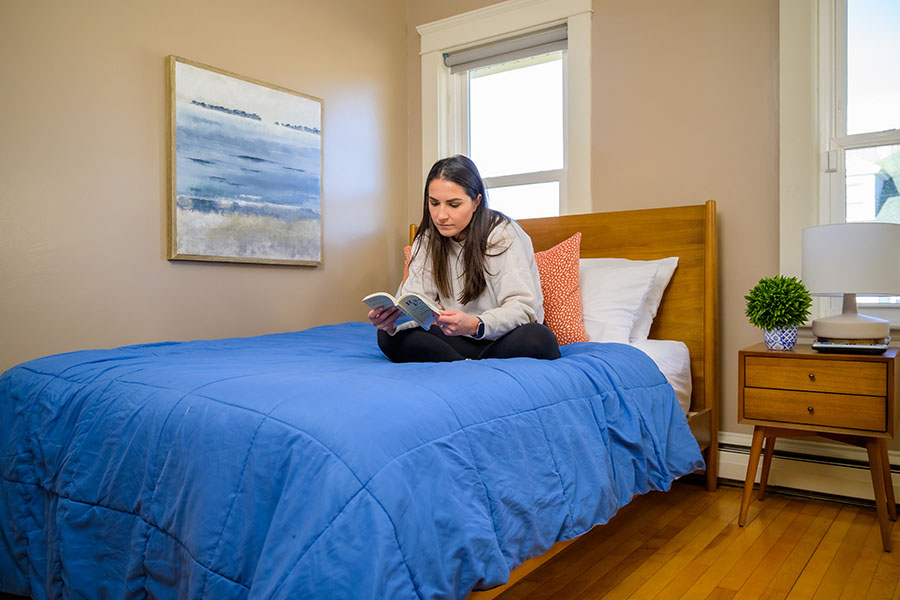 Sunrise provides the opportunity for you to undergo detox with dignity and respect in a judgment-free environment. We are passionate about what we do and follow a personalized approach to drug and alcohol care. This commences with an assessment that takes into account the level of your fentanyl consumption, medical history, physical status, and if you are taking other drugs. From there we can personalize a treatment plan.
In addition to a personalized plan, we'll provide a fully furnished bedroom to rest in and boost your energy with nutritious meals and snacks. Your comfort is extremely important, and we begin by addressing withdrawal through medication-assisted treatment and other methods. We are experienced in dealing with a range of withdrawal symptoms, including:
● Muscle or bone aches and pain
● Nausea and vomiting
● Diarrhea
● Restlessness and insomnia
● Cravings
● Increased heart rate and blood pressure
● Mood fluctuations
● Anxiety
● Depression
As you continue to improve, we'll urge you to engage in individual and group therapy. This is helpful in coping with the the external influences and trauma that trigger your addiction. We'll then help prepare you for your next stage of rehab.
What's The Timeframe For Fentanyl Detox?
Since we believe in a personalized approach, the length of time you spend with us will vary. In general, individuals will get through fentanyl detox near Orlando within seven days, although prolonged plans of care are possible. The duration of your stay can be influenced by:
● The extent of your fentanyl use
● Secondary addictions to other drugs
● Your mental and physical condition
● Your response to care
We need to make sure you are medically stable and ready for the subsequent phases of treatment. With that in mind, we stress the importance of aftercare planning, which supplies you with a comprehensive roadmap to your recovery.
How Can Sunrise Keep Me Safe During Fentanyl Detox Near Orlando?
Making the decision to get help and entering fentanyl detox near Orlando is a major milestone in ensuring your safety against this potentially lethal opioid. After you arrive, you'll be protected by the supplementary safety measures we have in place, including:
● 24-hour support from credentialed medical personnel
● A supervised setting far from outside forces that trigger fentanyl use
● Custom-tailored plans of treatment to match your unique condition
● Aftercare planning to establish a clear roadmap of the phases of your recovery
● Unwavering patient privacy protocols to keep your private information and treatment details protected
Our well-trained staff will also make sure you don't develop a secondary addiction to medication used in your care. We commonly use Suboxone in opioid detox as it is beneficial and not as addictive as other substances. To maintain safety when administering this medication, we abide by these guidelines:
● Delay using Suboxone in the earliest stages of treatment to steer clear of precipitated withdrawal
● Dispense an opening dose and monitor your response
● Adjust the dose if needed or consider alternative treatments
● Cautiously wean you off Suboxone
Begin Your Recovery With Fentanyl Detox In Orlando
Don't let a fentanyl addiction ruin your life. Find the support you're in need of at our fentanyl detox in Orlando. We'll make sure you're safe, help you through withdrawal, and get you started on a journey to long-term sobriety. Contact 407-305-4029 or complete the following form to request help. We are ready for you 24 hours a day, all year long.